Question:
I was injured in a car accident. The insurance company has made me a ridiculously low settlement offer. Why are they offering so little?
Answer:
You need to understand it from the adjuster's perspective. Most adjusters view car accident injury claimants with suspicion. Adjusters assume claimants are exaggerating their injuries, malingering, and looking at the car accident as a winning lottery ticket. Adjusters don't care about you. Their goal isn't to make you a reasonable offer. Their goal is to get you to go away for as little money as possible. The more money the adjuster saves the insurance company, the more attaboys the adjuster gets from his or her supervisor.
EXCUSES ADJUSTERS USE TO JUSTIFY LOW-BALL SETTLEMENT OFFERS
Insurance companies will look for an excuse to justify their low-ball offer to you. They will try to convince you that your claim is not worth what you think it is. Adjusters' go-to excuses include: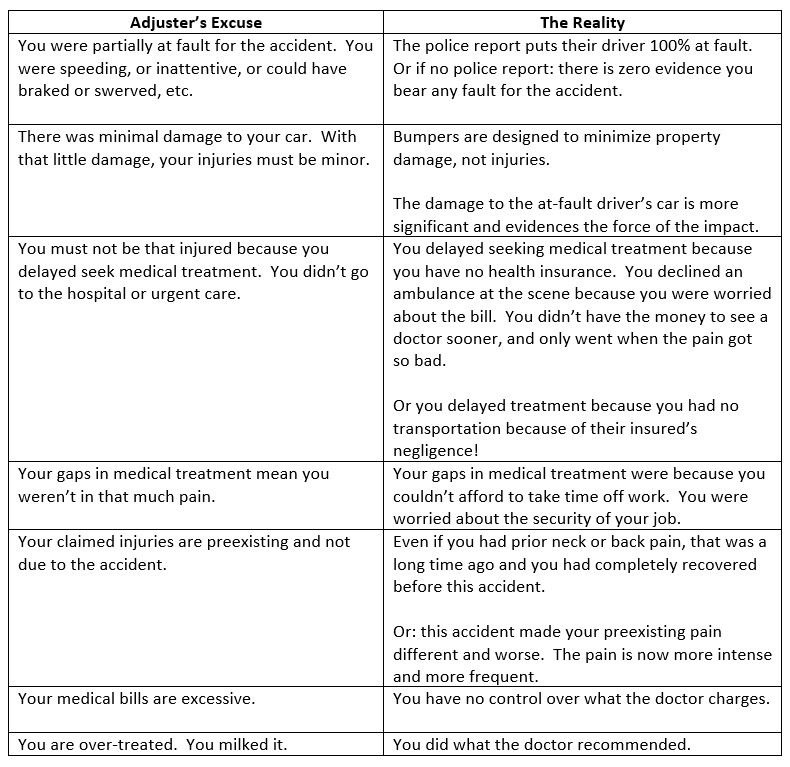 If an insurance adjuster is offering you less than what you think they should, run it by a personal injury attorney. Car accident lawyers provide free consultations. Contact the attorneys at McGee, Lerer & Associates and we'll give you our honest opinion on whether the offer is fair. If it's not, and we think you would be better off hiring a lawyer, we can discuss whether that is the right option for you.